IMPORTANT: coronavirus epidemic Covid-19
Depending on the evolution of the CoVID-19 epidemic some activities may be canceled or postponed with short notice. Some activities may be offered online. Please check regularly the websites of the various programs to have updated information on the activities. Thank you for your collaboration and understanding.
Welcome to the Doctoral Program in Microbial Sciences


In Switzerland and elsewhere, the past decade has seen a remarkable expansion of Microbial Sciences with a major impact on fundamental and applied life sciences and medicine. The Universities of Western Switzerland represent major poles of research in Microbial Sciences in the disciplines bacteriology, virology, microbial ecology, and mycology with currently over 30 high-profile research groups located at the Universities of Fribourg, Geneva, Lausanne and Neuchâtel.
The mission of the Doctoral Program in Microbial Sciences is to offer activities dedicated to the scientific and technical training in fundamental and applied microbial sciences according to the specific needs and interests of students at the doctoral level.
The goal of the Doctoral Program in Microbial Sciences is to offer advanced research training in order to prepare doctoral students for an optimal development of their future career. The program is complemented by the Programme Transversal for the development of generic skills of the CUSO (link).
The Doctoral Program in Microbial Sciences further provides an opportunity for PhD students to contribute to the elaboration of activities via a participation in committees and/or involvement in the organization of the annual retreat.
The interactions and synergisms between the local Doctoral Schools and the Doctoral Program in Microbial Science is guaranteed by the participation of several faculty members in both, by a common system of credits, and by an open access to activities to other doctoral students.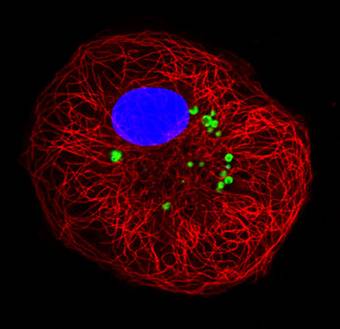 The obligate intracellular bacteria Waddlia chondrophila in human macrophage at 5h post-infection. The bacteria (green) were labeled with mouse polyclonal anti- W. chondrophila antibodies. The macrophage microtubules (red) were labeled with rabbit polyclonal anti- alpha-tubulin antibodies and the nucleus (blue) with DAPI. 100x magnification. By courtesy of Croxatto Anthony & Gilbert Greub.