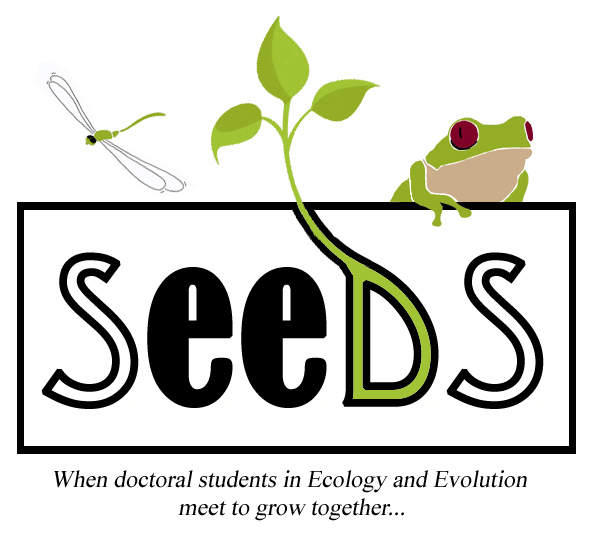 November 27th 2015 at the University of Lausanne
This year, the SeeDS (Symposium of Ecology and Evolution Doctoral Students) known for being a relaxed and friendly science meeting, will take place the 27th of November at the University of Lausanne. Targeting graduate students (but open to everyone), the SeeDS comes back with a complete new formula.
Borrowed from our friends from the University of Queensland, Australia, we took the gamble to adopt the THREE MINUTE THESIS (3MT®) concept. As the name suggests, we invite graduate students and their supervisors to present their research in three minutes.
Since three minutes is not much to explain many years of work, the speaker has to be concise and light on details. This is an unique opportunity for you to develop your capacity to quickly explain your research to all kinds of audience, from your parents to your future funder.

Since we do not want you to be lost because of this new concept, the SeeDS is for the first time offering a complete course before the symposia where high-skilled specialists in communication will share their knowledge with you, and for more fun, we will invite your supervisors to follow the same exercises.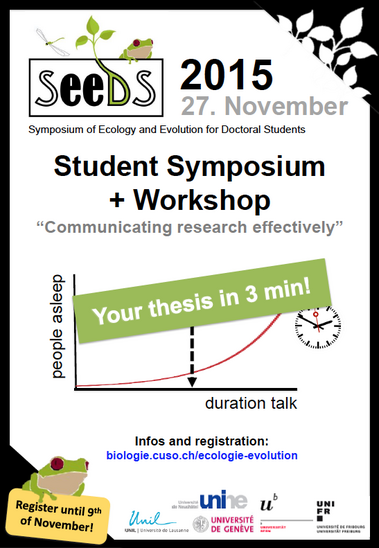 Morning Workshop:Communication & Presentation Skills for Scientists
For those inside or outside academia, communication skills can make-or-break a career. This half-day workshop will help participants to improve their interpersonal communication and presentation skills.

Because participants will have already prepared their 3-minute talks, this workshop will focus more on the performance and practice of science communication rather than the structure. How to hook and keep your audience? How to be engaging in both voice and body language? We will play a variety of games to help participants better think on their feet, harness their creativity, and feel more comfortable in front of audience. Also, participants will learn to use specific verbal devices to communicate clearly in a memorable way.


The participant will have developed his or her public speaking and one-the-spot improvisation skills, specifically, how to physically, verbally, and vocally command the attention of one's audience and make a lasting positive impression.
This workshop is beneficial to anyone who has a story to tell. Please wear clothes that you can move in.
Rules
- A single static PowerPoint slide is permitted. No slide transitions, animations or 'movement' of any description are allowed. The slide is to be presented from the beginning of the oration.
- No additional electronic media (e.g. sound and video files) are permitted.
- Presentations are limited to 3 minutes maximum
- Language: English
More information
- Winning Three Minutes Thesis (3MT®) presentations from around the globe (Click HERE)
- About Three Minutes Thesis (3MT®) concept (Click HERE)
- The CUSO doctoral program in transferable skills proposes this autumn workshop on "Three Minutes Thesis" (Click HERE)